Are you looking into how to buy gold with your 401(k) to make your retirement planning more secure? Unlocking the potential of gold investments with a Precious Metals IRA, also called Gold IRA, is an increasingly popular option in 2023 used by billionaires like Warren Buffett and Ray Dalio.
Especially in today's volatile economy where investors are desperately looking for ways to protect their wealth from stock market crashes, inflation, and the looming recession.
You can enjoy all the benefits that come along with investing in bullion, bars, or coins and, at the same time, protect your wealth. Gold offers something no traditional 401(k) can—actual physical metal holdings—a store of value!
But to purchase gold, silver, and other precious metals with the funds from your 401(k), you first need to set up a Precious Metals IRA, also called Gold IRA, which this guide will walk you through.
Our top 6 Gold IRA companies are the most well-established and reputable firms in the industry:
1. Goldco: Best Gold IRA Provider Overall
2. Augusta Precious Metals: Most Trusted Gold IRA Company
3. Red Rock Secured: Best ROI Gold IRA
4. American Hartford Gold: Most Transparent Fee Structure
5. Birch Gold Group: The Gold IRA Specialist
6. Noble Gold: Most Personalized Service
Feel free to use the quick links in the TOC list to jump straight to any section:
How To Buy Gold With Your 401(k)
A Self-Directed IRA Offers More Flexibility
Direct & Indirect Gold IRA Rollover
401(k) Rollover Eligibility
Opening A Gold IRA Account
Yearly Contribution Limits
Best Gold IRA Companies Of 2023
Gold IRA FAQ
How To Buy Gold With Your 401(k)
---
Without any further delay, let's take a look at how to buy gold with your 401(k). For more questions about Gold IRAs in general, you can check out our Gold IRA FAQ below.
401(k) To Gold IRA Rollover
A 401(k) to Gold IRA rollover is a fantastic way to secure the financial future that you deserve. This process involves transferring funds from an existing 401k or other traditional account and rolling it over into a particular, IRS-regulated self-directed gold Individual Retirement Account (IRA).
A 401(k) is an employer-sponsored retirement savings plan. It offers a convenient way to save and invest for retirement because you just elect to have a specified portion of each paycheck withheld and deposited into your 401(k) account.
More importantly, a Gold IRA also offers tax benefits, as the money invested in your 401k grows tax-deferred. You don't have any tax liability until you withdraw the funds from your account.
With this savvy move, you're in control of where and how your money grows. It helps you unlock wealth preservation possibilities with a proven approach to long-term savings in a tax-deferred account!
A Self-Directed IRA Offers More Flexibility
---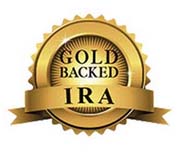 Investing with an employer-sponsored 401(k) plan can be limiting. Investors who want more choice and flexibility often transfer assets out of their 401(k) into a self-directed IRA, providing them access to alternative investments they wouldn't normally have with a traditional retirement account.
In other words, you can invest in many different types of financial assets beyond just the usual Wall Street products such as stocks, bonds, and mutual funds. That's a significant advantage over 401k accounts, which usually offer only a very limited choice of investments.
For example, GICs (Guaranteed Investment Contracts)—typically the lowest risk option offered in most standard 401(k)s—may offer minimal interest rates but don't necessarily provide investors great returns on growth or income potential, so having other options is important for those looking to meet both short and long-term financial goals.
In contrast to an employer-sponsored 401(k) plan, a self-directed IRA can be invested in any of the following assets:
Gold and other precious metals
Real estate
Venture capital and private equity investments
Joint ventures and other business partnerships
Raw or farm/ranch land
Promissory notes
And more.
(The only notable type of investment excluded from SDIRAs is collectibles).
>>> For more information, request your FREE Special Report.
Direct & Indirect Gold IRA Rollover
---
There are two types of retirement account rollovers when wanting to buy gold with your 401(k), direct rollover and indirect rollover:
Direct rollover, trustee to trustee
Indirect rollover or transfer, trustee to client to trustee
Let's take a closer look at these two options.
1. Direct Rollover
You can easily transfer your 401(k) to a Gold IRA with a direct rollover. After setting up a Gold IRA account, simply contact the plan administrator or trustee of your current account and request they move funds from your 401(k) to the custodian trustee of your new Gold IRA.
Your Gold IRA trustee can give you all the necessary information to give to your 401(k) plan administrator to facilitate the fund's transfer.
You'll receive an IRS Form 1099-R that notes the 401(k) withdrawal/transfer, and in box 7 of the 1099 form, there should be a distribution code of "H". It's this distribution code that indicates to the IRS that the transfer is not a taxable event.
And therefore, the normal 20% tax withholding rule won't apply to a direct rollover. No taxes will be taken out of, or subtracted from, the funds you want to roll over into a Gold IRA.
2. Indirect Rollover
An indirect rollover allows you to transfer the funds inside your 401(k) seamlessly into a Gold IRA while avoiding any taxes and penalties. 
With an indirect rollover, your 401(k) plan trustee disburses a check to you, in the amount of your 401(k) funds that you want to invest in your Gold IRA.
You basically never see the money yourself. This is something you can do at any time with your existing IRA, as long as the assets go from custodian to custodian. Meaning that the distribution check from the old IRA custodian must be made out in the name of the trustee or custodian of the new IRA account that receives the funds. Transfers may be made as often as you want.
However, it's important that within 60 days of receiving an 80% disbursement from your plan administrator, those dollars are securely deposited to the new account – else tax liability could kick in on both yourself and sometimes even larger IRS fees.
Are There Penalties For Moving My IRA Or 401(k)?
No, a Gold IRA rollover is a tax-free process with no fees or penalties, if done according to IRS guidelines. Funds withdrawn from an IRA are not penalized or taxed as long as they are re-contributed to a new IRA within 60 days.
401(k) Rollover Eligibility
---
Most 401(k) retirement accounts allow IRA rollovers. However, certain requirements and rollover eligibilities do vary across plans, so it's best practice to ensure compliance by checking in with plan administrators first before making any moves.
Just explain that you're considering transferring some or all of your 401(k) balance into a Gold IRA and they'll let know what can (and should) be done.
Besides, those who are age 59½ or at least 55 and no longer working for their original employer will have special eligibility rules granting them access to this opportunity without any unexpected hiccups along the way.
But if you're under the age of 54 and still employed by your 401(k) company, then a standard "in-service withdrawal" without incurring a tax liability can be tricky. You then have to either leave the firm, be willing to wait until later in life or get the necessary funds to open your Gold IRA from another source.
Fortunately, there is another way – most plans allow for what's known as "hardship withdrawals" with approval from the administration team. With this option available at your disposal, the path toward opening up a Gold IRA becomes much more feasible. Any Gold IRA company on this list can help you roll over your 401(k) into a Gold IRA from start to finish.
>>> For more information, request this FREE Gold IRA Guide.

Opening A Gold IRA Account
---
Opening a Gold IRA account is an easy process, but picking the right company can be tricky. With dozens of financial services specializing in this special self-directed account type, it's important you find a company that meets all your needs – from initial setup through ongoing service.
Make sure you research each firm before making an educated decision about who will manage your precious metals investments for years to come. For example, look into things like annual fees, minimum investment requirements, possible shipping fees, customer education, and service.
Here's an overview of the gold IRA setup process:
Request a Free Gold IRA Guide to learn more about Precious Metals IRAs
By requesting this guide, you'll be contacted by a Precious Metals Specialist
If you want to move forward, you'll then speak with an IRA Specialist who will ask about your current retirement account and help to confirm rollover or transfer eligibility
If eligible to convert your existing retirement funds into a Gold IRA, you'll then create an account with a custodian capable of handling self-directed IRAs. Your gold IRA company will help direct you to an appropriate custodian
Once the paperwork is done, you can roll over funds from your existing retirement account to the new self-directed IRA
With the funds in your new Gold IRA, you can purchase the precious metals of your choice
Lastly, your precious metals will be stored at an approved depository. You can't store your metals at home since it's against IRS regulations
Yearly Contribution Limits
---
After making your initial gold and silver purchases with the funds rolled over from your 401(k) account, you can continue building your precious metals investments yearly.
For 2023, total contributions to a precious metals IRA can't be more than $6,500 and $7,500 if you're age 50 or older.
Plus, investing in more precious metals for your IRA is as easy as sending a buy direction letter to your custodian trustee. With this one simple step, you can direct them on what metal to purchase, where from, and at which price – giving yourself the opportunity to add more gold or silver into your Gold IRA.
Best Gold IRA Companies Of 2023
---
To help you identify the best option to protect and grow your wealth today, we have reviewed and rated the top 6 gold IRA companies in the industry:
1. Goldco: Best Gold IRA Provider Overall
2. Augusta Precious Metals: Most Trusted Gold IRA Company
3. Red Rock Secured: Best ROI Gold IRA
4. American Hartford Gold: Most Transparent Fee Structure
5. Birch Gold Group: The Gold IRA Specialist
6. Noble Gold: Most Personalized Service
Gold IRA FAQ
---
If you feel you have more questions, let's answer some common questions about Gold IRAs next.
What Is A Precious Metals IRA/Gold IRA?
A Gold IRA, or Precious Metals IRA, is a specialized type of Individual Retirement Account (IRA) that allows investors to hold physical gold bullion or gold coins and other precious metals as qualified retirement investments.
Why Should You Invest In A Gold IRA?
There are several reasons people who have saved up for retirement might consider investing in a Gold IRA. Investing in a Gold IRA can provide diversification to your investment portfolio, which can help to reduce your overall risk.
In summary, precious metals will help you:
Hedge against a weaker dollar and inflation
Protect from stock market volatility
Limit exposure to economic uncertainty
Mitigate the effects of geopolitical instability
Diminish negative fallout from the coronavirus economic crisis
Diversify your portfolio
Take private ownership of your financial future
In uncertain times like these, it's more important than ever to turn to safe-haven investments to protect and possibly also grow your wealth. Follow central banks when they stock up on gold as they did in 2022 and are currently doing. According to US Global Investors graph below, central banks bought 400 tonnes of gold in 2022 – around $20 billion, the most in over a half-century:
Finally, a Gold IRA can offer tax advantages, as the Internal Revenue Service allows certain types of gold investments to be held in retirement accounts. In other words, it lets you take advantage of a simple and easy IRS loophole. This loophole allows you to hold physical gold and silver with the money you already have saved in your retirement account, completely tax and penalty-free.
What Is The Difference Between A 401(k) And An IRA?
The main difference between a 401(k) and a self-directed IRA is that an IRA is normally opened by you rather than being offered by an employer.
Does It Matter Who Currently Hosts My 401(k)?
No, it does not matter who currently hosts your 401(k).
Let us explain this a bit further:
First of all, if your 401(k) is from a company where you no longer work, you can still roll over those funds into a self-directed IRA. And once the funds from your 401(k) have been deposited in an IRA, you can use them to buy gold or silver, or other metals.
Second, even if you still work for the company that hosts your 401(k) account, it may still be possible to free up those funds. And after getting access to your funds, you can then rollover them into physical gold with a gold-backed IRA.
Note that in a gold 401(k) rollover, the money being moved is paid to you. And you then deposit the funds in the other account. You also have the option to transfer your 401(k) to a gold IRA.
Should I Invest In Physical Gold, Futures Options (ETFs), Gold Mining Stocks, Or Gold Funds?
Indirect forms of investing in gold are much riskier than physical metal. You are relying on any third-party individual or company to look after your wealth for you, and depending on the company's success or failure, you risk losing your investment.
With physical gold, you are in control of your wealth. Physical gold offers you that layer of protection and security that Gold Exchange Traded Funds (ETFs), gold mining stocks and funds do not.
When investing in a Gold IRA, you will get the same tax benefits as a traditional IRA, while actually owning physical gold coins or gold bars. Additionally, ETFs come with high operating expenses which can increase the overall cost, even when the price of gold goes down.
>>> For more information, request this FREE Gold IRA Guide.
Do My Precious Metals Have To Be Bars Or Can They Be Coins?
While some coins can be included in Precious Metals IRAs, only certain coins are IRS approved for inclusion in IRAs. In fact, not all bars or bullion are IRS approved.
All precious metals must be produced by manufacturers accredited by NYMEX/COMEX, LME, BMA, NYSE/LIFFE/CBOT, and ISO-9000, or a national mint to be held in a retirement account.
The minimum fineness requirements for bullion to be included in a Gold IRA are:
Gold .995+
Silver .999+
Platinum .9995+
Palladium .9995+
The IRS maintains a list of acceptable forms of precious metals for IRAs. You can be certain that a reputable Gold IRA company offers a variety of metals for IRAs within IRS guidelines.
What Precious Metals Can I Invest In?
You can invest all four of the precious metals in a Gold IRA – gold, silver, platinum, and palladium – as long as they meet the IRS requirements for purity.
In other words, you're free to mix different precious metals in a single account. The term, "Gold IRA", is a generic term used to designate an IRA that holds any physical precious metal investments.
A few select companies are licensed to also include specific cryptocurrency investments in an IRA. We recommend BitIRA for crypto IRA investments.
Is A Gold IRA A Safe Investment?
Let's turn this question around and ask: "Will your IRA really be safe without gold?"
Because gold prices historically move in the opposite direction of paper assets like stocks and bonds, adding a Gold IRA to a retirement portfolio adds diversification and also provides an insurance policy against inflation.
This minimizes risk, especially over the long term, which makes it a smart choice for retirement investments like IRAs. For more details, you can visit gold IRA pros and cons or >>>request this FREE Gold IRA Guide.
Is It Expensive To Have A Gold IRA?
No, Gold IRAs generally cost much less than most retirement plans. The annual cost typically ranges from $150 to $200. For example, on a $50,000 investment, that is less than 1%.
What Types Of Retirement Accounts Can Be Transferred To A Gold IRA?
You can transfer any type of retirement account, including a Traditional IRA, Roth IRA, 401(k), or other pension plans, to a Gold IRA as long as the account custodian or trustee allows it.
Here's the complete list of transferable retirement accounts:
Employer-sponsored 401(k)
Self-directed 401(k)
Traditional or Roth IRA.
TSP.
403(b)
457(b)
SEP IRA