If you're worried about making your retirement last, you're not alone! Many Americans are concerned about the longevity of their golden years.
One of the best ways to ensure that you won't run out of money when you're supposed to enjoy that your working days are over is to invest in gold and other precious metals.
In this article, we'll share 5 reasons why you should invest in gold right now to help you ride out the recession. But before we do, let's first answer the question of whether gold is a good investment in 2023.
Is Gold A Good Investment In 2023?
---
Yes, gold is a must-have investment in 2023 and moving forward!
With inflation remaining high and the looming recession, you need to invest in assets that are not tied to the dollar to protect your savings.
According to research firm Ned Davis, there's now a 98% chance of a global recession. This means that it's more important than ever to protect your hard-earned savings.
How can gold offer you protection?
For one, gold is a physical asset that can never go to $0. It's also considered a counter-cyclical asset, which tends to rise in value when financial assets tied to the dollar fall.
Furthermore, gold demand tends to grow when an economic crisis threatens. Smart investors know that it can serve as financial insurance in times of economic volatility.
And that's exactly what you need in times like these!
To recap, gold can help you:
Hedge against a weaker dollar and increasing inflation
Limit exposure to economic uncertainty
Mitigate the effects of geopolitical instability
Diminish negative fallout from the coronavirus economic crisis
Diversify your portfolio
Take real ownership of your financial future
How To Best Invest In Gold?
---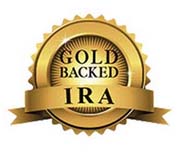 One of the best ways to invest in gold is to include precious metals in your retirement plan through a gold IRA, also called precious metals IRA.
A gold IRA is a specialized, self-directed individual retirement account designed to hold physical gold and silver, other precious metals, commodities, and real estate. Just like traditional IRAs, a gold IRA allows pre-tax contributions, meaning that the investment earnings can accumulate tax-deferred.
A gold IRA can offer you valuable protection against inflation and economic volatility, while also providing a valuable income stream later in life.
While traditional retirement accounts typically contain only marketable securities, like stocks and bonds, a precious metals IRA allows you to also add physical gold and other metals. This can add another dimension of security and diversification to your portfolio as well as help grow your wealth.
You can learn more about gold IRAs in this video: What Is a Gold IRA?
Now that you know that gold is a good investment in 2022 and how to best invest in this asset class, let's present 5 reasons why you should buy gold right now.
5 Reasons Why You Should Buy Gold Right Now
---
There are numerous advantages to owning gold and especially now with high inflation and a pending recession. And here are the 5 main reasons why you should buy gold right now!
1. Biden Wants To End Tax Benefits
You've probably heard the alarming news already… Biden wants to raise $3.3 Trillion in new taxes and he's gunning for your retirement account to do that.
Biden wants to end tax benefits for folks with more than $20K in their IRA and 401(k) accounts. So if you have retirement savings you can't afford to lose, we recommend that you get informed about how a gold IRA can protect your savings.
Plus, in 2021 he committed himself to radical wealth distribution. Already, those in power are rushing massive tax hikes through Congress while they still have a majority, which is why most retired Americans feel completely helpless.
If your IRA, 401(k), or pension savings took a hit during the 2008 to 2010 crisis, then you better be aware because financial experts predict a "financial haircut" unlike any other.
Luckily, you can fight back and request this >>>> FREE Gold IRA Guide to learn more about how physical gold can grow and protect your wealth.
2. Gold Offers Portfolio Diversification
Except for the protection from Biden's tax increase, gold is a great asset to diversify your investment portfolio with.
Most people tend to have the majority of their retirement savings invested in stocks and bonds, or in various types of funds that invest in pretty much the same financial instruments.
However, as we have seen post-pandemic those assets have lost a majority of their value. And with the pending recession, that might get even worse.
Gold is considered a counter-cyclical asset, which tends to rise in value when financial assets tied to the dollar fall. Plus, gold demand tends to grow when an economic crisis threatens.
Additionally, gold's performance has withstood the test of time and is viewed as a long-term store of value. If you're thinking about preparing for your retirement or having something to leave your children and grandchildren, investing in a gold IRA may be the solution for you.
3. Gold Can Help You Hedge Against Inflation
Historically, gold has been seen as a hedge against inflation.
To give you an example, since 1913, the US dollar has lost 97% of its value while gold has gained over 8,000%. It's this long-term increase and preservation of purchasing power that gives gold such appeal as an inflation hedge.
And now when the Fed's attempts to lower inflation seem unsuccessful and it'll probably take long to get it back to where it was, the ability of gold to maintain its value gets more important than ever.
For example, going back to the 1970s when we experienced stagflation, gold's average annualized gains over the decade were over 30%.
That kind of growth is undeniably appealing to investors, and we may repeat this pattern after these two last years of increasing inflation. We have, therefore, seen that more and more investors turn to gold right now!
4. Precious Metals Offer Tax-Advantaged Growth
Not only does a gold IRA allows you to hold physical precious metals and benefit from their potential price appreciation, but it also enables you to protect those gains from taxation until you decide to take a distribution.
This means that a traditional gold IRA will accrue gains tax-free and you only have to pay taxes when you decide to take a distribution. On the other hand, a Roth gold IRA where you hold physical precious metals will accrue gains tax-free and you'll pay no taxes at distribution.
Additionally, by transferring or rolling over assets tax-free from a 401(k), 403(b). TSP, IRA, or similar account into a gold IRA, you can also protect your existing retirement assets with an investment in physical gold coins or bars.
5. Gold Provides Wealth Protection And Portfolio Growth
As mentioned, gold can be an excellent inflation hedge that provides financial insurance and protection in tough times. Better yet, it can also offer you portfolio growth even in good times.
History proves that even when the economy is doing well and the markets are booming, gold can gain in value.
For example, consider this…
Since 2001 gold's average annualized growth rate is 8.8%, vs 5.1% for the S&P 500 and 5.0% for the Dow Jones Industria Average.
And if we look over the last 20 years, gold is up 10.3% according to Kinesis Money.
For more information about gold IRAs and how to store your assets, you can request this >>>FREE Gold IRA Guide.
Disadvantages Of Investing In Gold
---
As with all asset classes, there are disadvantages to investing in gold, even if they are few.
1. The Price Of Gold Fluctuates
The price of gold has volatility and can go up or down. That's why it is recommended to diversify your investment portfolio into several asset classes.
The good news is that a precious metals IRA allows you to do just that.
In fact, a gold IRA allows you to, for example, combine gold and cryptocurrencies, or other commodities such as real estate.
2. Specialized Storage
Storage is another challenge that gold investors may face. Gold bars and coins aren't just something that you'd want to keep under a pillow at home. You need to make sure that it's guarded well.
Luckily, there's an easy way to make sure your gold is stored completely safe (and also insured in case of the unlikely event that your gold would be stolen or misplaced). That's where a gold IRA is an excellent option!
Gold IRA companies work with custodians like Equity Trust who safely store the gold in highly secure vaults.
If you are ready to take action, >>>>see our list of the 6 top precious metals IRA companies (cash sales also available).
3. Unethical Companies
It's important to only be dealing with a gold IRA company that has all the appropriate and required licenses, registrations, insurance, and bonds to protect your investment.
This means that you should ask for verification of these licenses and other information before you invest any of your savings.
Also, look for a gold IRA company with an outstanding reputation from objective third parties, such as the Better Business Bureau or the Business Consumer Alliance.
Additionally, Augusta Precious Metals has a great video on how to avoid gold IRA dealer lies, gimmicks and high-pressure sales tactics some companies use to gain buyers and make commissions.
Top Gold IRA Companies To Invest In
---
It's crucial to choose a reputable gold IRA company when you are ready to invest your hard-earned money.
To make your vetting process easier, we have reviewed and rated the top 6 gold IRA companies to invest in. You can rest assured that the companies on our list, are some of the best precious metals companies in the industry.
We have rated each gold IRA company on a variety of factors including BBB/BCA ratings and complaints, customer reviews, annual fees, precious metals selection, storage options, promotions, and buy-back programs.
If you are ready to take action, >>>>see our list of the 6 top precious metals IRA companies (cash sales also available) or continue reading below.
Stina is an entrepreneur who's passionate about personal finance, investing, and digital marketing. She's been a writer in this space for over a decade.