Are you looking for the most recent gold IRA companies reviews in 2022 to help you know what gold IRA provider to choose? How To Invest Gold has reviewed, compared, and rated the 5 best gold IRA companies of 2022 to help you identify the best option to grow, protect, and diversify your wealth today.
Feel free to use our TOC list and the quick links to jump straight to any section.
Table Of Contents
Before we provide you with our top-rated precious metals IRA companies, let us take a look at what a gold IRA is. If you already know what a gold IRA is, you can jump straight to our gold IRA company reviews list.
What Is A Gold IRA?
---
A gold IRA, also called a precious metals IRA is a specialized, self-directed individual retirement account designed to hold physical gold and silver, and other precious metals.
Starting a gold IRA is one of the best things you can do to protect and grow your retirement savings and hedge against the rapidly increasing inflation.
Just like traditional IRAs, a gold IRA allows pre-tax contributions, meaning that the investment earnings can accumulate tax-deferred.
A gold IRA differs from a traditional IRA in the sense that it strictly holds physical gold, silver, or other metals.
In contrast to a gold IRA, a regular IRA typically holds paper assets such as stocks, bonds, EFTs, funds, and so forth.
Benefits Of A Gold IRA
---
In uncertain times like these, it is more important than ever to turn to assets that help you hedge against inflation and other economic stresses to help strengthen your savings.
Opening up a gold IRA account has many benefits, and can, for example, help you:
Hedge against a weaker dollar and increasing inflation
Limit exposure to economic uncertainty
Mitigate the effects of geopolitical instability
Diminish negative fallout from the coronavirus economic crisis
Diversify your portfolio
Take real ownership of your financial future
Different Types Of Gold IRAs (Self-Directed-IRA or SDIRA)
---
There are two types of gold IRAs available:
1. Traditional-Based Gold IRA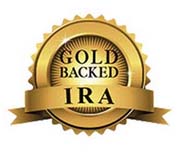 With a traditional-based IRA, you do not pay tax on the contributions you make to your gold IRA from your income until much later in retirement when you take distributions. And you can start taking distributions without penalty when you are age 59½.
To give you an example, if you make $60,000 one year and decide to contribute $5,000 into your gold IRA, you will only pay the tax that year on $55,000.
In addition, by the time you pay tax on that $5,000, the gold you have spent it on could well be worth a lot more. And this possible rise in asset value could mean that you will end up getting some of your tax bills effectively paid for free.
Also, a traditional IRA comes with a 'Required Minimum Distribution (RMD)', starting at the age of 72, meaning that you must withdraw a certain amount from your IRA each calendar year. Accordingly, this RMD also applies to a gold IRA.
2. Roth-Based Gold IRA
In contrast to a traditional IRA, with a Roth-based gold IRA, the contributions you make are NOT tax-deductible.
But on a positive note, when you make withdrawals from your gold IRA, you do not have to pay taxes on your investment gains. So, if the price of gold has increased significantly, this tax advantage may be a huge benefit.
Additionally, with a Roth-based gold IRA, the Required Minimum Distribution does not apply.
Instead, an upper-income limit applies to Roth IRAs. And as of 2022, your modified annual income must be less than $144,000.
Gold IRA Companies Reviews (Top 5 Precious Metals IRA Companies)
---
PROMOTIONS GOLDCO
Get Up to $10,000 in FREE Silver (If Opening Up a Qualifying IRA)
INVESTMENT MINIMUMS
Investment Minimums Gold IRA: $20,000-$25,000
PROMOTIONS AUGUSTA
Get Up to 10 Years of Fees Reimbursed to Your IRA in Premium Silver Coins (Depending on the Size of Your Account)
INVESTMENT MINIMUMS
Investment Minimums Gold IRA: $50,000
PROMOTIONS BIRCH GOLD GROUP
Get Up to $10,000 in FREE Precious Metals on Qualified Purchases
INVESTMENT MINIMUMS
Investment Minimums Gold IRA: $10,000
PROMOTIONS REGAL
Get Your Admin and Storage Fees Waived for the First Year
INVESTMENT MINIMUMS
Investment Minimums Alternative Assets IRA: $10,000
PROMOTIONS BULLIONVAULT
Get 1/8 oz (4g) of FREE Silver Bullion on Your First Trade
INVESTMENT MINIMUMS
Investment Minimums Gold IRA: None
Gold IRA Common Questions & Answers
---
In an attempt to make you feel more informed about the gold IRA process, what it entails, and what IRS penalties to avoid, we have listed some additional questions and answers.
How Much Does A Gold IRA Cost?
A precious metals IRA or gold IRA often comes with higher fees than a traditional or Roth IRA that invests solely in paper assets.
Typically, there are 3 sets of fees charged with a gold IRA:
1. Account Setup Fee
The one-time account setup fee often ranges from $50 to $150.
Some companies waive this fee if the account size is big enough. For example, Augusta Precious Metals has a promotion where they will reimburse up to 10 years of fees to your IRA in premium silver coins.
2. Admin/Custodial Fee
Except for the setup fee, there is also an annual administrative or custodial fee, ranging from $50 to $150 depending on the account's size.
Popular custodians are, for example, Equity Trust and New Direction IRA. Depending on the gold IRA company you decide to work with, they have a preferred custodian/custodians.
3. Storage Fee
Lastly, storage fees are also charged by the depository ranging from $50 to $300 annually, depending on the amount of gold being stored.
Should I Buy Gold Bars Or Gold Coins?
---
When purchasing gold for your gold IRA, you can choose between bullion bars and sovereign coins.
The IRS has established guidelines for metal "fineness" standards to determine whether gold or silver in the form of bullion bars or coins is acceptable for a gold IRA.
This means that the IRS only allows specific gold and silver coins and bars, such as:
Gold or Silver American Eagles
Gold or Silver American Eagles (Proof coins)
Gold or Silver American Buffalos
Gold or Silver Canadian Maple Leafs
Gold or Silver Austrian Philharmonics
Silver America the Beautiful Coins
Gold or Silver Bullion Bars
American Silver Eagles
And more.
Image Source: augustapreciousmetals.com
No matter what bullion or coins you choose, a reliable gold IRA company knows what is and what is not acceptable for a gold IRA.
While both are essentially valued in the same way—per ounce based on the spot price of gold, coins may be easier to trade and tend to sell at higher premiums than bullion bars.
Besides, the markups are often higher on small bullion bars. And large bars are more suited for institutional investors.
However, all the gold IRA companies (listed above) offer favorable buy-back programs for both coins and bullion.
What About Storage?
---
When you own gold inside a gold IRA, you must store it in a secure IRS-approved depository. Needless to say, you cannot keep your IRA gold in a home safe, safety deposit box, or under the mattress.
Most gold IRA companies partner with different custodians that are carefully vetted and will make sure your metals are stored safely.
Generally, the also company handles transportation logistics as well as insurance coverage.
Note: It is up to you to confirm that any company you invest with has all the required licenses, registrations, insurance, and bonds to protect your investment. So, ask for verification of those licenses and other information.
When Can I Take Distributions?
---
"Distributions" are the term used to designate withdrawals of funds from your IRA.
If you are at the qualified age to start getting disbursements from your account (usually 59 ½ ), you can choose to take funds in cash value. Or you can have the actual metals shipped to you directly
But be aware that you will be taxed accordingly and be responsible for any liability to the IRS for early withdrawals. The bottom line is that you should treat a gold IRA as a long-term investment for retirement and hold it to maturity.
Note: Remember that you have to start taking payments at 70 ½.
Can I Rollover My 401(k) Into Gold?
---
Yes.
In fact, many people who choose to invest in a gold IRA are using funds they acquired while using a traditional IRA or company-managed 401(k).
Additionally, retirees also make the switch to gold with accounts they take with them upon leaving the workforce.
Many choose to roll over just a portion of their IRA or 401(k) to a gold IRA as a way to diversify their nest egg, which should always be the way to go. Learn more in our Gold IRA Guide.
Gold IRAs And Taxes
---
By investing in a gold IRA, you will diversify your retirement portfolio on a tax-deferred basis and maintain the tax preferential treatment.
As a result, transferring or rolling over a portion of your existing IRA account into a gold IRA will not trigger any tax implications. You do not have to pay taxes on your contributions until you withdraw them.
There are limitations on how much you can contribute to these accounts each year and these limits can change year to year. However, your gold IRA company will be updated on these rules.
What IRS Penalties Should I Take Care To Avoid?
---
To avoid showing up on the IRS radar, you should take care to avoid two main penalties.
1. Exceed Contribution Limits
If you are under age 50, you are allowed to contribute a total of $6,000 a year (to all of your IRAs). On the other hand, if you are age 50 or older, then the maximum contribution limit is $7,000.
Furthermore, a penalty of 6% may apply for exceeding your contribution limits. For example, if you exceeded the limit by $1,000 in one year, you will be charged 6% of $1,000 — which is $60 — for every year that the error goes uncorrected.
2. Early Withdrawal Of Distributions
If you withdraw money from your gold IRA before reaching the age of 59 ½, you will incur a 10% tax penalty (that is, you will have to pay 10% of the amount of your withdrawal, in addition to whatever income tax you may be liable for.
Exceptions to this rule do apply in certain circumstances:
If the IRA holder is disabled
The withdrawal funds are used to pay for certain medical expenses
Or if the withdrawal funds are used to pay for education
Plus certain Covid-related circumstances
Specifically, you should double-check with a tax professional to see if any of these exceptions are applicable to a withdrawal that you make.
If you declare the wrong sort of bullion and/or coins as being part of your gold IRA, the IRS may treat this as an early withdrawal and fine you accordingly.
All things considered, the best way to avoid incurring IRS penalties is to pick a reputable and experienced custodian for your gold IRA. The custodian will then make sure that every aspect of your gold IRA and the bullion you choose are handled in proper accord with IRS regulations.
Also, the custodian will also handle filing all the necessary annual reporting paperwork with the IRS. Again, a reputable gold IRA provider handles all the aspects and necessary gold IRA procedures "in-house."
How To Start A Gold IRA
---
To establish and manage your gold IRA you need to:
Have a reliable source for IRS-approved bullion and coins
Appoint an approved "custodian" administrator to set up and watch over your gold IRA
Store your IRS-approved coins and/or bullion in IRS-approved vaults
Any of the listed gold IRA providers above will hold your hand and make sure this is set up for you, plus ensuring getting all the paperwork right.
With that being said, let us show you the easy 4 steps when opening a gold IRA next:
1. Select Your IRA Plan

For starters, to invest in precious metals you have to start with a self-directed IRA. As an investor, you can begin a new IRA account or roll over from an existing retirement account. It is key to speak with a
tax advisor and precious metals expert to make sure that you follow regulations and that any retirement accounts you currently hold are eligible for a gold IRA transfer or rollover, or other precious metals IRA.

2. Select A Precious Metals Custodian

Second, gold IRA assets need to be stored with a custodian per IRS regulations. So, working with precious metals investing professionals, like those at Goldco or Augusta Precious Metals, will help you find a custodian experienced with gold IRA investing. That way, you'll ensure that your self-directed IRA is set up correctly.

3. Select Your Precious Metals

When choosing precious metals, it is important to remember that they need to meet certain IRS rules and regulations to avoid retirement mistakes when investing. Working with a precious metals specialist will ensure that you are choosing the right types of gold, other precious metals, or crypto.

4. Purchase Precious Metals

Once you have chosen your desired metals as an investment, you can purchase them and work with your custodian regarding storage. The custodian will keep your assets safe and secure at a bullion depository so that they will be available when you need them.