Sleep well at night! Protect your retirement savings account with gold and silver IRAs.
Why this statement?
Because stock markets are in fantasy land right now. The U.S. economy is in shambles with over 40 million Americans having lost their jobs since the COVID-19-related economic shutdowns began. While the official unemployment rate is at around 15%, the real rate is probably closer to 25%.
Second-quarter GDP is expected to fall by as much as 50% which is a bigger drop than during the Great Depression.
Despite all negative news, how can it be that stock markets are up almost 10% this month?
A Stock Market Crash Is Inevitable
---
The major driver of stock markets right now is the huge amount of liquidity that has been pumped into the financial system by the Federal Reserve.
The Federal Reservehas already created nearly $3 trillion in new money out of thin air. Much of that money has made its way to Wall Street, helping fuel the continued bull run in stock markets. But how much longer can the Federal Reserve keep it up?
As with all stock market bubbles, when the monetary spigots close, the party will end. No one knows when that will happen, as the economy is still in poor shape and there is a great likelihood of continued intervention from the Federal Reserve.
However, at some point, the Federal Reserve will either slow its money creation significantly or the effects of continued marginal money creation will be greatly reduced and stock markets will start a long-overdue decline.
Investors Are Buying Into Hopes And Dreams
---
Investors today are buying into hopes and dreams about the health of the U.S. economy rather than the stark reality. You read a lot about the resilience of the U.S. industry, the underlying strength of the U.S. economy, and the ability of businesses to rebound from setbacks.
The reality is that there will be no V-shaped recovery. Hundreds of thousands of businesses will shutter this year and millions of Americans will remain unemployed even after the economy has fully reopened.
That is the sad truth!
Trillions of dollars of liquidity can paper over problems with the economy for a little while, but eventually, investors will get wise to what is really going on and everyone will head for the exits. There is also a high probability that 2020 will see a significant reduction in stock buybacks which definitely will impact markets.
There is a greater likelihood of a major stock market crash over the remainder of the year than of continued gains. Investors who are able to position themselves correctly, now in advance of the crash, will be best protected once the crash actually occurs.
In many cases that means investing in precious metals that protected many investors from the worst effects of the 2008 Financial Crisis.
With stock markets due for a major crash as the economy continues to reel from the effects of the COVID-19 shutdowns, gold and silver are becoming increasingly popular investment assets for those looking to protect their retirement savings.
Gold has served to protect investor assets against economic uncertainty and financial crisis since time immemorial. It stands the test of time. Millions of investors over the years have benefited from the protection that only gold can offer.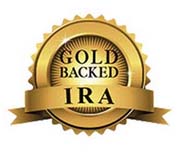 How Does Gold And Silver IRAs Work?
---
A gold or silver IRA, also known as a precious metals IRA, a gold-backed IRA, or a Roth gold IRA, is a specialized type of Individual Retirement Account (IRA) that allows investors to hold physical gold bullion or coins and other precious metals as qualified retirement investments.
These special forms of IRA retirement vehicles are actually self-directed IRAs that are meant to hold physical gold coins and gold bars of high purity, as well as silver, platinum, and palladium if you so choose.
Find out more about what a gold IRA is and why you should invest in it, benefits and potential risks, rollover and transfer rules, and so forth in our Gold IRA Guide.
Can I Invest In Gold With My Current 401(k) Or IRA?
---
A common question when thinking of protecting your retirement account with gold and/or silver IRAs is if it is possible to invest in gold and silver through your current 401(k) or IRA account?
Unfortunately, you cannot, since your current 401(k) plan or IRA custodian in all likelihood does not offer gold as an investment option.
401(k) plans can be expensive for employers to offer so they often limit the investment options available to their employees. Even in plans that offer dozens of investment choices, gold and silver are never options offered by the plan administrator.
If you want to invest in gold and silver that you actually own, you will need to invest in a gold and/or silver IRA.
What Is A Gold IRA?
---
A gold IRA is a self-directed IRA (the IRA is managed by you) that offers investors the ability to invest in physical gold coins and bars while still enjoying the same tax advantages as of a conventional IRA.
A gold IRA can be a traditional IRA in which you invest with pre-tax dollars or it can be a Roth IRA in which you invest with post-tax dollars.
The Gold IRA Experts at Goldco will walk you through the whole process and present options so that you can decide what type of gold, silver, or other metals you want. They will find the best option for your needs.
The Goldco specialists will also assist in the process of working with your current retirement plan administrators and ensuring that your funds are transferred from your current retirement account into your new gold IRA.


Download FREE eBook: 10 Reasons You Should Start A Gold IRA
---